---
I Grew up in this North Carolina city, the largest between D.C. and Atlanta, and started my work (and career) life here. The "Queen City", so known for its being named for the wife of the then King of England, had, and still has, an active music scene. I started performing in Charlotte in 1964 at a fledgling arts festival called "the Festival in the Park", playing largely for a crowd made up of my "Special Abilities and Talents" program schoolmates. This was the most remarkable group of individuals I\'d ever been exposed to and pretty much remains so to this day. Interestingly enough, we just had a reunion of our junior high school SAT class, many of whom I\'d not seen for nearly 40 years. We were so tight, as a group, back then that when we came together again we fell right into that cohesiveness again, right away. I trust that this renewed friendship will, in many cases, last us all well into our later years. Among our illustrious group we have a "Peabody Award" winning videographer and director (Donna Campbell), an admissions dean at a major university (Reggie Kennedy), a professor of philosophy at Williams University (Alan White), a major officer at Verizon Wireless (Becky Jackson), a computer engineer (Chip Davis), a head of group support for the Alzheimer\'s Foundation (Teresa Hoover) , a managing architect at one of the country\'s largest and most well regarded architecture firms (Lane Abernathy), published authors, self-help gurus (not a pejorative term, Betty, I admire you) and little nobody, "Me". But at least I\'ve had as much fun as most of them.
We also played at a club named for the club the Beatles played in Liverpool, "The Cavern", but the bulk of the live music in the mid to late 60\'s was in Topless bars where I saw more women\'s chests before I was 18 than most see in a lifetime. But I digress.
I was born and reared in Charlotte. I graduated from The University of North Carolina at Charlotte, was married there to my first wife, Debi, with whom (though divorced nearly 35 years) I share the same level of emotional and intellectual connection that we had the day we got married.I still have a great love for my home city, even after being gone for almost 30 years. If Charlotte had an ocean and a resort style music business, I\'d still live there.
Special mentions here to several of my earliest bandmates, in hopes they\'ll find this page and know my appreciation for their hard work and friendship.
Tommy Mullinax - great drummer and friend, became a renowned architect, retired now to a mountaintop in Virginia. I got to spend some time with him at a reunion last year.

Frank Perez - bassist and brother of almost famous and highly regarded Linda Perez. He actually saw my name on a marquee in Greensboro, N.C. almost 25 years ago and stopped in thinking it might be me. I salute you, Frank.
James "Blinky" Cochrane - I\'m afraid its too late. Jim\'s younger brother Jeff saw my mention of Jim and called to tell me he had passed away almost 17 years ago. I treasured the memories of our early days as performers and regret that we were never able to play together again. Jeff will hopefully put Blinky\'s 1964 candy apple red Stratocaster in the hands of a musician. It, and Jim, deserve it to make the great music we used to do togther. RIP, my old friend.
---

Actually, all of central Florida was my stomping grounds for the last half of the 70\'s and into 1982. When I first moved to Florida, I lived in Melbourne Beach, or rather on the beach about 8 miles south of there, several miles north of Sebastian Inlet. I moved there when I took a position with ARP Instruments, the then world\'s leading electronic music synthesizer, ostensibly as SE District Sales mangler, but in those early days of synthesis, the real work was PR and educating schools, dealers and musicians in the theory of synthesis and instructing in the instrument\'s use. I thoroughly enjoyed that aspect of the job and did that part well. It\'s no mistake that I put sales mangler, as that\'s what I did. Nobody\'s perfect.
I returned to performing in Florida, with agent Len Turner\'s personal band, the American Express, then starting my group "Island" with New Yorker Nick Chirico, Brit Keith Abingdon, and two guys fresh from the army jazz band, Dave Songer and Rob Salisbury. I was lured away from my own project by an offer from the best funk and funk rock band in Florida, Orlando\\'s "Chocolate and Vanilla"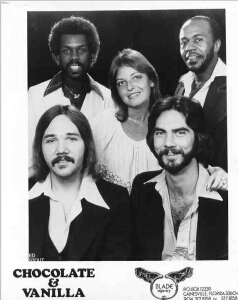 an act I am proud to have been a part of to this day. Joe Jackson, Jr. (upper left in the photo) was the best drummer I\'ve ever heard. I hope hes still at it. John Stone, (lower left) one of the first owners of the all aluminum Veleno guitar, from the 60\'s act the Outsiders (Time Won\'t Let Me) and a guy that could write, sing like Smokey Robinson and play bass like Verdine White, Richard McKinley (Irvin). After the original singer/dancer, Billy King, had to quit the road, the band became 5 lead singers with the addition of Sharon Taylor from Savannah, Ga. who could caress a Melissa Manchester tune or belt a Mother\'s Finest tune with the best of them, reported to have been touring in the 80\'s with a reincarnation of Hot Chocolate. Bless you, Sharon. After a couple years of hard partying and bad business decisions though, I returned to the Carolinas and struck out on my own.
---
The South Carolina coast known as the "Grand Strand" is a 61 mile stretch of beautiful, white sand beaches with accommodations for as many as 400,000 people per week, rich in its own traditions of music and a long thriving entertainment industry. Growing up 180mi NW of Myrtle Beach, I spent many a child\\'s thrill and a young adult\'s passion here. Yes, after many years on the road most of the time, and living in as disparate places as Melbourne Beach, Fl., Atlanta, Ga., and even Greenville, SC, I finally settled in a place where there is a thriving music industry of which I\'ve made myself an integral part. I also picked up another career, booking golf vacations for the largest company in the local hospitality business, Burroughs and Chapin Company\'s "Myrtle Beach Trips" and a new enthusiasm for golf.
---