---

I was born July 18, 1951 in Charlotte, N.C.'s Presbyterian Hospital to two of the sweetest, most honest and kind parents a child ever had. I was named after my Dad and never had a bad day in my entire youth. Raised religiously and educated thoroughly, I had the good luck to be born at a time when it wasn't difficult to get a good public school education. I was raised in the largest working class Southern Baptist Church in town (southern baptist wasn't a fundamentalist sect in the 50's and 60's), and at our church, we had a Pastor and a minister of music. At the height of my time in church, we had a music minister that had a PhD in Theology, and a PhD in Music. Rev. Elwood Coggin. He was a published composer/songwriter, too, and had a great influence on my future. I attended Ranson Junior High and West Mecklenburg High, where I was president of the Fine Arts Club,Dionysus Disciples (drama club), and the Spanish Club. My spanish teacher, Mr. Hartley, and junior year drama coach, Joyce Mahaffey, both went on to teach at the college level. I finished high school in 1969 and that very summer, two days after my 18th birthday, our species walked on the moon.
What a time to grow up!
---


Big Changes Afoot In The World
Starting college at East Carolina University in Greenville, NC in the fall of 1969, it was hard to predict what a tumultuous decade we were all entering. We as a nation went through race riots, anti-war protests, the deaths of many of our counterculture icons, the disgrace and resignation of a president, licked our wounds from Vietnam, endured Iran's taking of our diplomatic hostages; indeed we lost our innocence and came of age at the 200th birthday of our nation.
Returning to Charlotte, I married my high school sweetheart and enrolled at Central Piedmont Community College, where I stayed until I entered UNCC as a junior. I kept changing curricula so often that, though I only had to have 125 hours to graduate, I finished with 176 hours and a degree in Political Science and international relations, almost by default.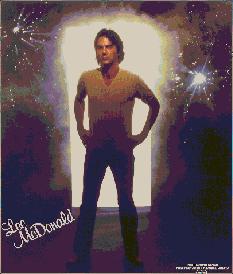 Period Lyric
I worked as a recording studio engineer, produced a couple records, recorded the Nashville Symphony live, wrote radio jingles, performed with a pre-Kiss glitter (theatrical rock) band, and when I took a job with a Musical instrument manufacturer, talked them into letting me base myself on the east coast of Florida, and, losing that spouse, went into a hard partying mode that lasted till about 1982.
Period Lyric
Period Lyric
---

Decade of me-ness
The 80's were a difficult time for many of us born in the fifties and raised to consider our society before our selves. The concept of "me first" and the institutionalization of greed did not and still does not fit into our image of how the world should be. The withdrawal of the United States from leadership in the world for free speech, ethnic and racial harmony, equality between the sexes and evenhandedness in the treatment of those of alternative lifestyles or religions still rankles among those of us who do not believe that liberal is a dirty word. To some of us, the term "liberal" refers only to someone who believes that all people have a right to believe (and do) what they wish, as long as it doesn't infringe on the rights of others and a "conservative" is someone who believes that only they have the message(s) that are right for everyone. The 80's also became the decade where trusted financial leaders took advantage of a political climate to amass huge wealth at the expense of the "little guy"; The decade that inflated home prices by way of profiteering to the degree that for the first time in the history of our country, the majority of young to middle aged people could not afford to improve on the lifestyles of their parents without the assitance of their parents or parents estates.. I left my favorite band, "Chocolate and Vanilla" after a failed attempt at a recording career at the end of the 70's and never looked back. I started my solo performing career in a lounge at the Swamp Fox hotel in Florence, SC with a little "memphis blue beat" rhythm box and my piano and synthesizer and no experience of playing solo in a bar.
Period Lyric

An agent friend of mine called me and offered me the job of a guy who'd been shot at that hotel and, despite deep misgivings, managed to do the job on only two days rehearsal, and survived unscathed but rattled. Two years later, I married that redhead that had been working on the front desk in that hotel, and moved back to central NC, near my mom, who I'd hardly seen in years. I traveled out of little Mt. Pleasant, N.C. for years to Greensboro, Raleigh, Rock Hill, Edisto Island, Charleston, Fripp Island, Pipestem st. Park (WV), Seabrook Island, Fairfield Mountain, Fairfield Harbour(New Bern, NC) and many more places where I made many wonderful friends. I've lost touch with most, but occasionally one finds their way to our beach mecca at Myrtle Beach and long lost contacts are renewed. I hope you're one of them. Since I moved to Myrtle Beach in 1984, I've only had to do three weeks out of town, staying busy with the local music scene.
---
The Nineties
When Hurricane Hugo hit in September of 1989, our lives were nearly uprooted, as was our home, but just a few months later our resort transformed itself from an older 50's style beach resort to the 2nd largest resort location in the country for travel by surface transportation, with the current total of 100 golf courses and many country music and variety music theaters. I continued my solo career for many years at the Myrtle Beach Hilton, Sands Beach Club, Sands Ocean club, Caribbean cafe, the Coral Beach Resort, the (almost world famous) Harry the Hat's and two summers with the legendary "Party Sharks" on the pool deck oceanfront.

Now I've switched over to running a karaoke show at night and booking golf vacations in the daytime. Many people tell me that my shows are the best run and most enjoyable shows they've seen. My beautiful wife Sue sings with me and co-hosts the show. You should come see us.